Will Apple's iAd fail at the first hurdle in the UK?
I read with interest in the latest edition of New Media Age that the iAd network (to be launched by Apple next month in the UK) is asking £600,000 from advertisers as a minimum campaign spend.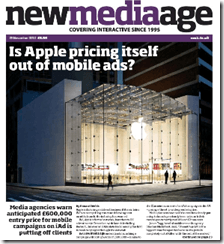 Now this to me seems like an awful lot of money, especially for a mobile campaign – and on only one platform (Apple).
Back when I was more involved with mobile advertising, £60,000 was a pretty sizeable campaign, and I am sure that many mobile advertising networks and agencies in the UK would love to have regular £60,000 bookings.
It looks like someone at Apple has gone to the XE currency conversion site, typed in $1,000,000 (the minimum iAd campaign spend in the US) and converted the figure to pounds.
The UK market is very different to the US market (size is one factor), and a direct conversion shows that there has been little thought about the UK market.
According to those interviewed by New Media Age for the article, the iAd network will also be limited in that:
no 3rd party ad serving stats are available (have to rely on Apple's stats)
limited control over what ads are served and
limited veto over competitor ads being served
smaller revenue share
As per their MO, Apple comment was sought by NMA but none was forthcoming.  Perhaps they will get some instant feedback about the £600,000 price point when launch advertisers Renault, Unilever and Absolute Radio are asked to re-book for the second campaign.
According to Stefan Bardega of MediaCom Beyond Advertising "..in the US a lot of the brands that joined initially haven't rebooked".
For my mind, £600,000 "get out of bed" fee for iAds on a closed platform doesn't sound right – we will see if the critics were proven wrong in about 3 months.
As I have been saying for years now, the only way for mobile advertising to succeed is for creatives and planners to think relevancy rather than reach and frequency.
As mobile is such a personal device, only when the 3P's of mobile (and social media) Privacy, Preference, Permission are followed will we have any sort of adoption of mobile as an advertising/information channel.
Watch this space.