HISTORY channel teams with Foursquare in London
Hot in the heels of my Foursquare Fatigue post, the HISTORY channel in the UK has launched an initiative with Foursquare to help people uncover 600 historic sites in London.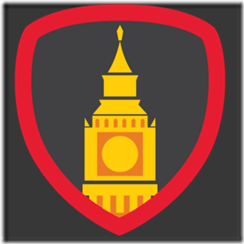 I attended the launch this morning at the tower of London (and in doing so picked up the HISTORY ♥ London badge).
Tom Davidson, who is Managing Director of the HISTORY channel's parent company AETN UK explained that they had decided to follow the lead of their US team and launch a Foursquare partnership in London.  They have put together 600 tips for a range of locations across London, some iconic, as well as some of the city's best kept secrets.
First you need to follow the HISTORY channel on Foursquare, then after 4 check-ins to one of the venues linked to the HISTORY channel Foursquare tips, you will receive a HISTORY ♥ London badge.  Venues such as The Tower of London and Hampton Court Palace qualify towards the badge.
Importantly, they have also signed up 20 commercial partners that will offer deals and discounts.
As I have mentioned before, Foursquare desperately needs deals like these in the UK and outside the UK to stay relevant.
The recent launch of Foursquare Deals will mean that brands such as HISTORY can't just focus on one social network.  At the launch, I asked Tom if the deal was exclusive to Foursquare, and if we could see them on Facebook Places anytime soon.
He mentioned that no, the deal was not exclusive and they were open to being on other networks.  The other interesting fact was the intensive process behind researching the 600 locations as well as writing all the tips, and entering them all into Foursquare. According to the launch team, this project was started last summer.
Brands wanting to leverage location based social networks therefore need to have a strong commitment to not only see the project through to launch, but also to maintain and refresh the content, as well as sign on new partners going forward.
Hats of to the HISTORY team for being the first to do this on such a scale in the UK.  Hopefully this launch will encourage other brands and agencies to do the same.
When I asked Tom for advice for others looking to do this, he suggested that they would be happy to talk to people about their experiences, as they already had good contacts at Foursquare and also had been through the pain of setting up such a large project across London.  Please contact me and I can connect you with Tom.
See also the post over at Foursqare games about the event by Rhea O'Connor.
A short video explaining the concept is below.
From the press release
London – HISTORY today announced the launch of a new partnership with the location-based social network, foursquare that is aimed at encouraging HISTORY viewers to rediscover their love of London including all its famous landmarks and historic sites as well as the lesser known parts of London such as historic bars, monuments and streets.
The partnership, the first for a UK television channel with foursquare, was launched today at the Tower of London.  The Tower is one of almost 20 top visitor attractions across London that HISTORY has brought on board with foursquare.
Partnering with foursquare allows HISTORY viewers and non-viewers to engage with the channel brand via a mobile application for the very first time in the UK.  Mobile users download the foursquare app to their phone which enables them to 'follow' HISTORY.
Followers receive an intriguing tip each time they check-in to any of 600 historic sites in the city including the partner sites working with HISTORY.
After any four visits to any of the attractions, followers are awarded a foursquare badge – HISTORY ♥ London.
Discounts at many of the 600 attractions are offered to followers simply by checking-in.  Just some of the partners on board with HISTORY are the Thames Barrier Visitors Centre, Shakespeare's Globe, Museum of London, The Clink and many, many more.
The channel will also launch a prize draw for badge holders to win a five star weekend in London for two.
Tom Davidson, MD of AETN UK said, "Through our partnership with foursquare, HISTORY is moving towards entertaining a wider viewing audience including tech-savvy, brand conscious people.  With foursquare, we are engaging with people in a new and innovative way to enhance their visits to some of London's most famous and unusual attractions.  With access to 600 fascinating locations and intriguing tips to your phone, people checking in will start to discover so much more about their city."
Commenting from foursquare, Jonathan Crowley, Director of Media Partnerships, said: "We pass by historic places all the time, without ever realizing their significance. We're excited about the way HISTORY in the UK is leveraging the foursquare platform to deliver historic tips and information when it's relevant to a user's location."
HISTORY will be promoting the new partnership over the next six months through a number of initiatives including; TV advertising campaign, features on existing online advertising, regular updates on Facebook, Twitter and YouTube, presence within partner venues, email campaign to HISTORY subscribers and have created an online destination at history.co.uk featuring an interactive map of London and participating partners.
To find out more about HISTORY history.co.uk/foursquare
To find out more about foursquare foursquare.com/historychannel