First look at the Nokia E71 after a week of power use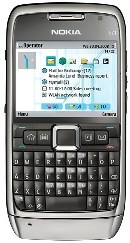 This post has just been featured at WOM World/Nokia.
Just over a week ago I took delivery of a shiny new Nokia E71.  Those who have been following London Calling lately will know that I have been waiting excitedly for the E71 to be released, having been an early adopter of both the E61 and E61i.
After a week of heavy, normal mobile usage, I am still impressed with my purchase.
First thoughts
The keyboard, while small is a joy to use.  Having previously owned an E61 and E61i, I know that one handed typing was pretty much impossible – but with the E71, you can type sentences that include Z and P (furthest apart on the keyboard) one handed.  The  E61 was always a 2 handed affair when typing complex emails.  When I use the E61i now, it feels incredibly wide and heavy compared to the E71.
The E71 also "feels" right.  It is incredibly light and thin, but has a solid feel about it if that can be imagined by the reader. It is so thin that when you hold it, it feels like the back has been sliced off it.  Considering that the bulk of the volume is a BP-4L battery (the same one used in the E61i), it is remarkable how thin the device really is.
The keyboard, while much smaller than the E61i feels much better and has the best action of any handsets I have owned.
The screen, while physically smaller than the E61i provides a crisp view and is more than up to the task.
What did I load?
One of the first tasks when setting up a new phone is to load all of my favourite productivity software to make life even easier. Listed below are my "must haves" on any new symbian phone, together with links direct to the software publishers.
Psiloc Connect – given Nokia still haven't got connection groups right, you need this software to provide seamless switching between WiFi and 3G.  The way this great piece of software works is to constantly monitor pre-configured WiFi access points (such as home of office access points you have already set up) and provide a single connection name you can have as the default in all programs.  Connect automatically switches between WiFi and 3G.
Shozu – this is an amazing piece of software and allows you to easily upload photos to flickr (and a host of other sites) straight from the phone – without doing anything.  Shozu also supports geotagging so the pictures are uploaded pre-tagged with GPS co-ordinates.
Handy taskman – you will need this to enable you to quickly check which programs are running, and kill applications not needed.
Google Mobile Maps – a no brainer here.  With HSDPA and GPS on board there is no excuse not to have this as one of your applications accessed from the home screen.
Screenshot – a neat application for taking screenshots of the E71 in action.
Transferring software from the E61i to the E71
In moving my favourite software from my E61i to the E71, I had to once again contend with the fact that most Symbian software these days is IMEI locked – so can only be used on one nominated device (to get your IMEI number simply enter *#06# on any handset). This meant installing trial versions of the software and contacting the software publishers one by one to request a new code with my new IMEI.  In all but one case, I received the code within 24 hours. One publisher had incorrectly listed my previous code and so thought my subscription had expired.  Forwarding the purchase email seemed to solve this.
 
Things I like about the E71
There are a number of significant improvements over the E61i that make the E71 a real joy to use – and in some cases more powerful than previous models – and I have provided a summary here.
Increased system RAM – the E71 now has enough memory for multiple applications so I can run all of the things I need without having to selectively close them to make the phone work. This is a real plus – and something Nokia needs to implement with all new phones as users download more and more utility software in this user generated content world.
GPS – finally my main phone has GPS and I don't need to carry 2 phones.  I have found though that the accuracy of the GPS chip in the E71 is not as good as say the Nokia 6110 navigator – a dead giveaway is when using Google mobile maps and walking on a road – the 6110 would follow the road perfectly but the E71 puts you in between streets.  Perhaps a firmware upgrade will fix this.
Keyboard – one handed typing is now possible – a really key requirement for a road warrior such as myself wanting to quickly respond to clients while walking the streets of London.
Camera – a reasonable improvement over the E61i (from 2MP to 3.2MP on the E71) and it also has an autofocus feature – yay!
HSDPA – running at 3.2Mb/s gives a very usable web experience.  Upload is however capped at 384kb/s as it is not HSUPA enabled – and I hope that the internal radio can be upgraded to 7.2Mb/s HSDPA and 1.2MB/s HSUPA but I'll bet this has to wait for the E71i.
D-pad joystick – when the E61 joystick changed to a D-pad on the E61i I wasn't sure what to think.  The E71 D-pad is a dream to use.  The centre button also doubles as the flashing white email/message indicator light.
 
Things that need improvement
The E71 is not perfect – and a few things need improvement. Some may be possible in firmware, and some will have to wait for the Nokia E71i (going by the E61 > E61i precedent, I'd bet we will see an E71i in the next 10 months or so). 
Nokia PR – please feel free to send me one to review!
Thigs I don't like
Not having commonly used symbols such as £,$ and ( ) on the keyboard accessible by the function key is a REAL PAIN. Instead you have to hit the char key and scroll to the correct symbol.  Perhaps this is due to the small size of the keyboard and issues with printing legible symbols on top of small keys. 
Another pain is that the control key needs to be accessed by hitting fn-chr so a simple control-c for cut and pasting is a real pain – this will become annoying as my usage increases.
 
Summary 
The E71 is definitely a "buy" recommendation from me, and has all of the things I need in a business phone. 
The E71 will be truly complete when the Goodlink keyboard issue is solved by Motorola Good Technology – hopefully this will be soon. Read this official Good forum and the groundswell of support that started on this blog is being echoed on this blog.  Hopefully the techies at Good are beavering away on a fix.
Note: I have not been paid for this review or been provided any handsets to review.  I bought my E61, E61i and E71 handsets myself and paid full price – these are not operator versions but unlocked, generic models sourced from online stores in the UK.
I have been a Nokia fan since my first Nokia 1100 (AMPS model on the Optus network) in 1994 and owned more than 12 Nokia phones since then.
 
Updates
I will update this post as I use the device more and add any comments relevant to people considering upgrading to an E71.
Please feel free to add your own E71 experiences below.